RAMScope:
Measurement Data Acquisition&Calibration
Product Specifications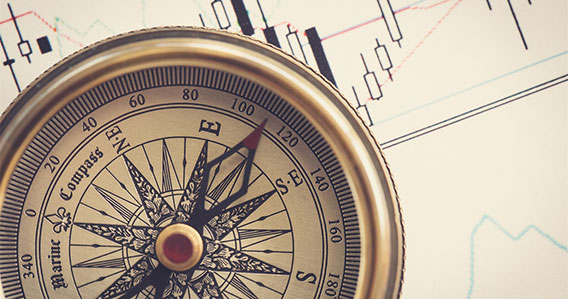 RAMScope-EXG (GT170 series) System Configuration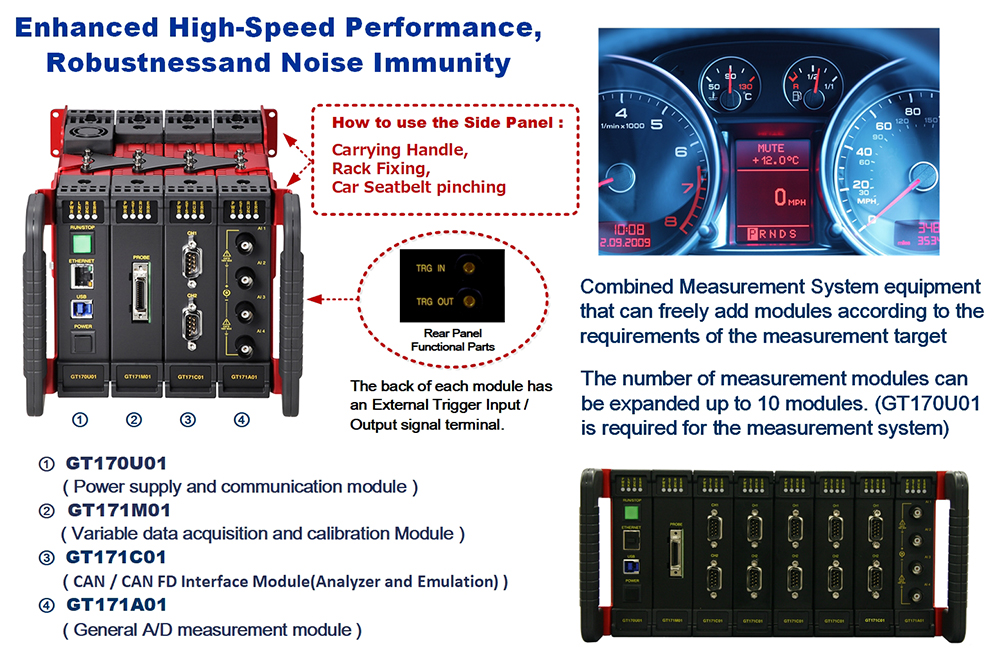 Power Supply and Communication Module:GT170U01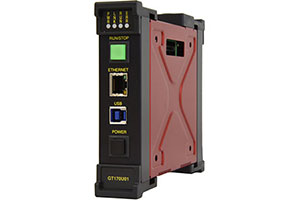 【Power supply,PC communication・Measurement system control module】
Measurement module connection:Up to 9 modules
Output voltage: 12V
PC-I/F:GbEthernet(XCP on Ethernet is supported)
    USB3.0(For RAMScope VP connection, For Ethernet maintenance)
Front side SW:Power start/stop -SW, Measurement start/stop -SW
Back side CN:Back side CN
External dimensions:132(H)×32(W)×157(D)mm
Accessories:Panels on both sides, USB cable,
AC adopter, Power cable, Manual CD
Variable Data Acquisition and Calibration Module:GT171M01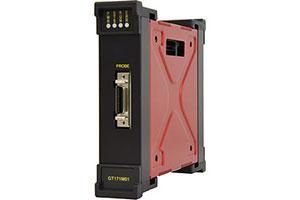 【Variable data acquisition and calibration module for microcomputer debug I/F】
Number of measurement channels:2048 points (max)
RAM data injection function:30channels×64 Scenario data tables
Front side CN:MCU/In-vehicle probe connection-I/F
Back side CN:External trigger IN/OUT
Support connection probes:GT102xx/GT103xx/GT104xx/
 (GT170 series dedicated probes:GT106xx/GT107xx)
External dimensions:132(H)×32(W)×157(D)mm
Accessories:None
CAN Interface Module(Analyzer and Emulation):GT171C01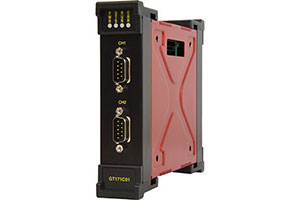 【High-speed CAN/CAN FD measurement module】
Sending function:Specific feature testing(by using scenario setting※)
(※Interface data sending scenario setting for each channel:
Up to 64 send steps can be registered for each scenario)
Front side CN:CAN-I/F 2channels
Back side CN:External trigger IN/OUT
Bit rate:
 CAN 2.0B:1M, 800K, 500K, 250K, 125K (bps) 
 CAN FD:8M, 5M, 4M, 2M, 1M (bps) 
External dimensions:132(H)×32(W)×157(D)mm
Accessories:None (CAN cable is not included)
General A/D Measurement Module:GT171A01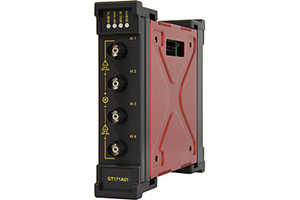 【Analog signal measurement module】
Front side CN:Analog input 4channels
(Inter-channel impedance of the same module is 2MΩ.Differential input)
Simultaneous measurement of different voltage ranges is possible.(No differential probe required)
Multi-range input:±100V/±50V/±25V/±10V/±5V/±1V
(Protection against transient voltage:Measurement category 300Vrms CATⅡ)
±1000V (DC + AC Peak) (*) When using 10:1 probe
Back side CN:External trigger IN/OUT
External dimensions:132(H)×32(W)×157(D)mm
Accessories:None  (Analog cable is not included)
GT121/GT122 Series(for simple RAM measurement only)
The GT121/GT122 series extracts dynamic changes in variables (internal RAM values) in real time via the microcomputer debug interface in order to measure the operation of the microcomputer control algorithm during execution.This is a dedicated variable measurement tool that enables observation of dynamic variable change data and long-term logging.
The communication I/F between the host PC and GT121/GT122 is a USB connection. Measurement operation is performed from USB power supply.
The compact measurement tool with enhanced robustness and noise resistance.The measurement probe is only for the Automotive probe GT104xx series.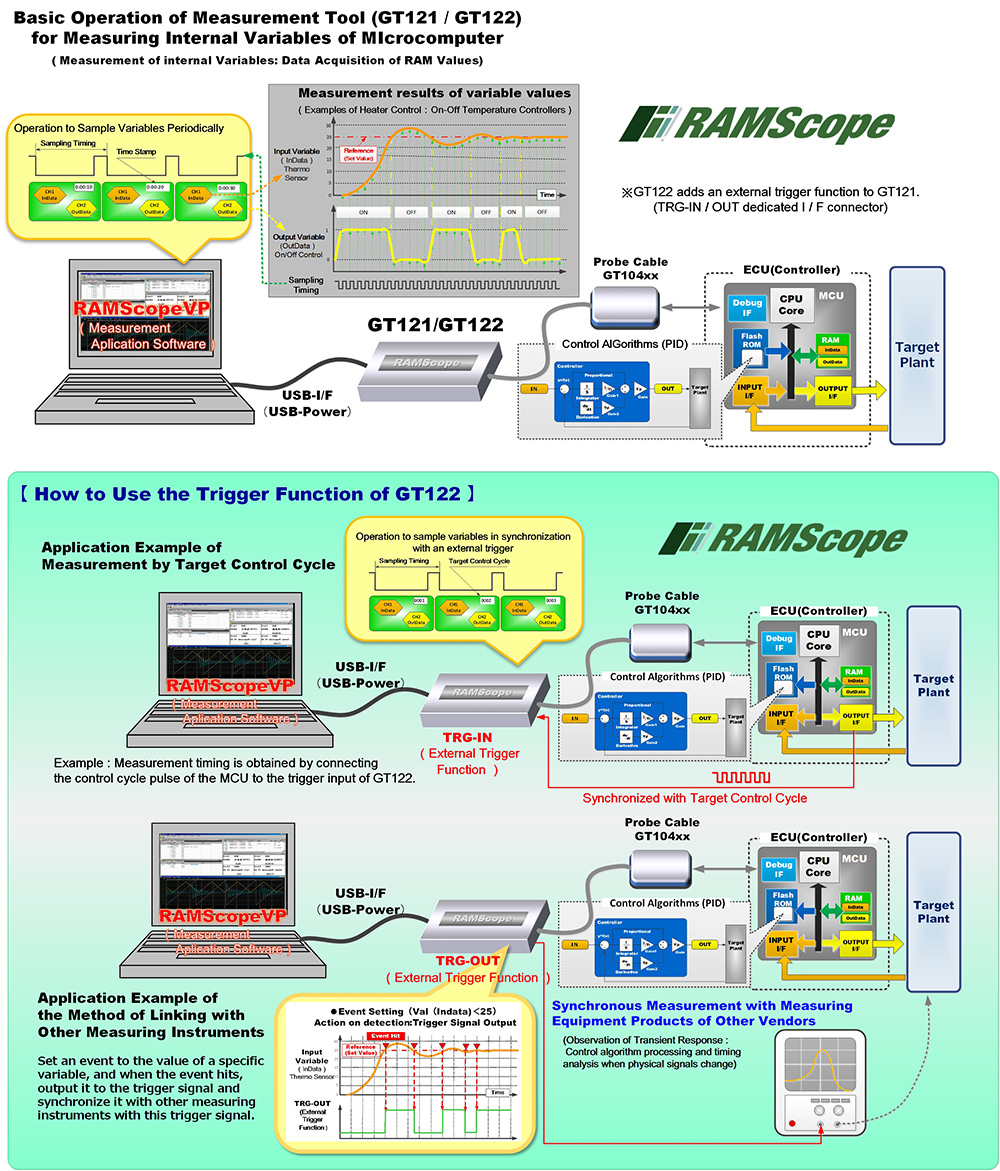 RAM Monitor (measurement) Exclusively Model:GT121/GT122 Series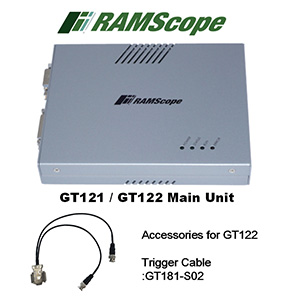 【RAM monitor (measurement) exclusively product】
・GT121(No trigger function)
・GT122(With trigger function)
PC connecting interface:USB2.0
Power supply:Use USB power
Depends on microcomputer debug I/F specifications and measurement points
Variable (RAM) measurement specifications (reference value)
 Sampling period:5 us (min) to 65 s (max) (※)
 Number of measurement channels:1024 points (max)
(※)Depends on the microcontroller to be measured
Calibration probe:GT104xx
External dimensions:(mm):126.1(W)×92(D)×21(H)mm
Trigger cable for GT122:GT181-S02(Optional accessories)
Probe for RAM Monitor (measurement)
MCU probes GT102xxx and GT106xxx(※)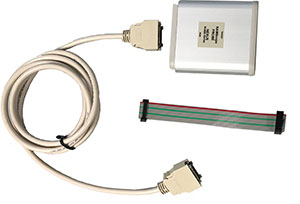 【RAM monitor probe for test bench】
(GT171M01 - GND insulation between MCUs)
Probe products are different for each microcontroller family support
Configuration: Target cable(15cm),Probe body,
   GT171M01 connection cable (2m)
External dimensions/Weight: 82(W)x93(D)x24(H)mm/137g
※For GT170 series only(GT150 series cannot be connected)
Automotive probes GT103xxx,GT104xxx,GT107xxx(※)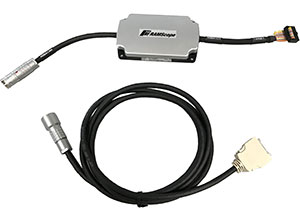 【Automotive (in the engine room) RAM monitor (measurement) probe】
(GND insulation between RAM monitor(GT171M01,GT121,GT122) and MCU))
Enhanced vibration resistance, Temperature range:-40 to +105 deg C
Drip-proof (waterproof) measures Level IP44 equivalent
Configuration:Probe body,GT171M01 connection cable 5m(GT103xxx,GT107xxx),
2m(GT104xxx(GT121 and GT122 can be connected))
External dimensions/Weight::63.5(W)x112(D)x20.5(H)mm/185g
※For GT170 series only (GT150 series cannot be connected)
Product Specifications
【GT170 Product Series】
GT171M01
Microcontroller interface
NBD, AUD, AUDⅡ, AUDR, RTD, NEXUS, DAP etc.
Sampling period
5 us (min) to 65 s (max) ※Depends on microcomputer debug I/F specifications and measurement points
Number of measurement channels
2048 points (max)
Symbol Watch (Memory R/W function)
Variable specify:64 points×16(max), (Memory area:256Byte(max)reference/rewriting)
Logging timestamp
Added once every set measurement cycle
Monitor display
Displays data in real time in Byte / Word / Long size, Numerical value "List window"・Waveform "Graph window"
Test support function(Scenario Write)
30channels×64 Scenario data tables:Step execution・Repeat execution, sequential / repeat
Operation condition:When Starting, Start Event, Stop Event, Reading and saving scenario files
Constant tuning(Calibration function)
Area:Internal memory of target ECU(RAM Tuning),
Motorola-S format file data(Indirect ROM Tuning)
Editing function:Curve Watch Window(Displaying / Editing a one-dimensional array),
Map Watch Window(Displaying / Editing a Two-dimensional array)
Calibration value array edit tab:16 groups registration (max), Calibration value read (ECU / File) and write (ECU / File)
External Trigger
1 input,VIN: -0.5V~+5.25V,External signal sampling measurement mode
1 output,VOUT: (select 3.3V or 5V),Scan output/Pulse output/Event output
File Import
/Export
Import: A2L file format(ASAM MCD-2MC Data Specification Version1.6),ELF/DWARF2
Export: MDF file format(ASAM Common MDF Version 4.1.1)
MCU Probes
GT102xxx
Target side connector:14-pin (2.54 mm)pitch Pin header: 3M company connector(7614-6002xx)or equivalent
Operating Environments Temperature range: -20 to +80 deg C(Specifications vary by probe shape),Humidity range:20 to 80%RH(Non condensing)
GT103xxx,GT104xxx(For Automotive)
Target side connector:14-pin (2.54 mm)pitch Pin header: 3M company connector(7614-6002xx)or equivalent
Operating Environments Temperature range: -40 to +105 deg C(Specifications vary by probe shape),Drip-proof (waterproof) measures Level IP44 equivalent
GT171C01
CAN bus
CAN Version 2.0B, CANFD
Bit rate
CAN 2.0B:1M, 800K, 500K, 250K,125K bps, High Speed CAN (Corresponding protocol physical layer ISO1898 compliant)
CANFD:1M,2M,4M,5M,8Mbps
Number of CAN channels
・Format ID
2 channels/1module,Standard ID format/Extended ID format is available for each channel
Logging timestamp
Add a time stamp every time a message is received
Monitor display
Message: Displays in Byte size, Signal:Displays with the set signal length
Test support function(Pseudo sending)
Pseudo data sending scenario setting for each channel:送Up to 64 send steps can be registered for each scenario Step interval can be set(DELAY setting)
Select one of "Periodic sending","Sequence sending" and "Event sending(Make a scenario)"
Connector,Pin assignment
D-Sub 9pin ×2ch / CAN-H: 7, CAN-L: 2, GND: 3
Termination
120 Ω, ON/OFF switchable
File Import
/Export
Import:CANdb format
Export: MDF file format(ASAM Common MDF Version 4.1.1), ASC file format
External Trigger
1 input,VIN: -0.5V~+5.25V,External signal level measurement mode
1 output,VOUT: (select 3.3 V or 5 V), Output when received/Pulse output/Event output
GT171A01
Multi・Input range
±100V (resolution  5mV) / ±50 V (resolution 2mV) /  ±25(resolution 1mV)/
±10V (resolution: 0.5mV) / ±5V(resolution: 0.2mV) / ±1V (resolution  0.1mV)
at the time using 10:1 probe, it's 1000 V
Measurement accuracy Within ± 0.1 %, Inter-channel impedance: About 2MΩ(common)  
Sampling performance
500KHz~
Frequency character
DC~50KHz
Number of input channels
4 channels, Inter-channel impedance:2MΩ
Input type
Differential type
Logging timestamp
Added once every set measurement cycle
File export
Expor: MDF file format (ASAM Common MDF Version 4.1.1)
External Trigger
1 input,VIN: -0.5V~+5.25V,External signal sampling measurement mode
1 output,VOUT: (select 3.3 V or 5 V),Scan output/Pulse output/Event output
RAMScope
-EXG
(GT170 series)
common
Power-supply voltage
DC12V (input voltage 9V to 16V)
Event Settings
Number of event 8 points(Up to 8 events in the entire modules), Types of event:10 patterns(=/≠//In range/Out of range/Rise edge/Fall edge/Trigger input terminal H or L)
System event trigger
(Measurement start and end)
Up to 8 measurement data logging conditions can be set for events
Logging trigger function:Data logging start / end conditions can be set by combining events
System external trigger
(Measurement start and end)
1 input、VIN: -0.5V~+5.25V,External signal sampling measurement mode/External signal level measurement mode
1 output、VOUT: (select 3.3 V or 5 V),Pulse output/Event output
ASAM standard compliant
MDF(ASAM Common MDF Version 4.1.1)/XCP on Ethernet
Savable Log File
CSV/Binary log file(RAMScopeVP Saved as a unique binary log file)
Operating Environments
Temperature range:-20 to +60 deg C (※GT171A01: +5 to +40 deg C)  Humidity range:20 to 80 % RH(Non condensing)
About Host Computer
Connecting interface
GbEthernet(1000BASE-T) Use it when work together with third party products by XCP on Ethernet
USB 3.0
Recommended host computer specifications
CPU:3.40 GHz 32 bit (x86) or 64 bit (x64) processor
Installed memory(RAM):4 GB or more, HDD:10 GB or more of available hard disk space
OS:Microsft Windows7 Professional/Ultimate, Windows10 32bit/64bit
【GT121/GT122 series】
GT121
GT122
Microcontroller interface
NBD, AUD, AUDⅡ, AUDR, RTD, NEXUS, DAP etc.
Sampling period
5 us (min) to 65 s (max) ※Depends on microcomputer debug I/F specifications and measurement points
Number of measurement channels
1024 points(max)
Symbol Watch (Memory R/W function)
Variable specify:64 points×16(max),(Memory area:256Byte(max)reference/rewriting)
Logging timestamp
Added once every set measurement cycle
Monitor display
Displays data in real time in Byte / Word / Long size, Numerical value "List window"・Waveform "Graph window"
External Trigger(GT122)
1 input, VIN: -0.5V~+5.25V,External signal sampling measurement mode
1 output, VOUT: (Select from 5V),Scan output/Pulse output/Event output
File Import
/Export
Import: A2L file format (ASAM MCD-2MC Data Specification Version1.6),ELF/DWARF2
Expor: MDF file format (ASAM Common MDF Version 4.1.1)
About Host Computer
Connecting interface
USB 2.0
Recommended host computer specifications
CPU:3.40 GHz 32 bit (x86) or 64 bit (x64) processor
Installed memory(RAM):4 GB or more, HDD:10 GB or more of available hard disk space
OS:Microsft Windows7 Professional/Ultimate 、Windows10 32bit/64bit