Multi-channel Flash Programmer
for Production Line
NETIMPRESS acorde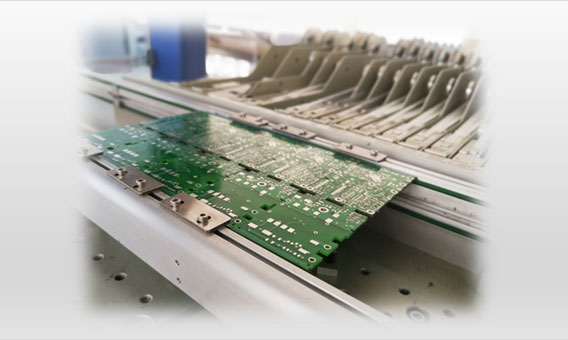 Overview(Programmers Expected to Manufacture a Wide Variety of Products)
At the production site of Monozukuri, we had aimed to improve QCD (quality, cost, delivery) by mass-producing small-quantity varieties with high quality and low cost and putting them on the market as soon as possible.In the current age of maturity, customer needs are diversifying, and the "manufacturing" demanded by the market is changing to small-volume production of multi-product products.The challenge at changing production sites is to realize QCD improvements through a wide variety of products. Manufacturing lines for electronic products are becoming increasingly popular in the production of multi-chamfered PCBs, such as "multiple mounting of a single type" and "mixed mounting of different types" on a single printed circuit board (Printed circuit board:PCB), in order to achieve more efficient productivity and cost reductions in small-lot, large-lot, and small-lot production.

NETIMPRESS acorde is a multi-flash programmer that can be adapted to small variety and large quantity, high variety and small quantity.The product configuration is a programmer system equipped with communication and power supply to the base unit (AFX200) and capable of adding up to 9 units of programmer unit (AFX210) and Digital I/O unit (AFX220).
Multiple-flash built-in microcontroller mounted on a multi-face chamfer PCB can be programmed collectively with the same object file, different object files, and different microcontroller types. It also supports high-speed setup changes when switching product lots.We also have a maintenance unit (AFX230) that can be operated offline to confirm the start-up of the production line.

【Main Features】
Equipped with programmer function (avant) on unit card (programmer unit)
Independent programmer unit (with SD card):
Programming environments can be stored individually
Fast switching of production lot setup in 1 second
Change to the programming environment of the next lot by switching folders in SD card
Capable of expanding up to 9 units according to the field needs of the production line
Significantly faster communication speed (compared to previous models)
((The PC-to-programmer communication time is reduced to 1/10 or less, and the writing time is reduced to about 30%))
Enhanced affinity of production equipment
Prepare Digital I/O units for collaboration with other production-line facilities and PCB testing fixtures
Prepare the maintenance unit as an individual product
For periodic inspection and maintenance of equipment for adjustment of expansion, special installation, and temporary installation of on-site equipment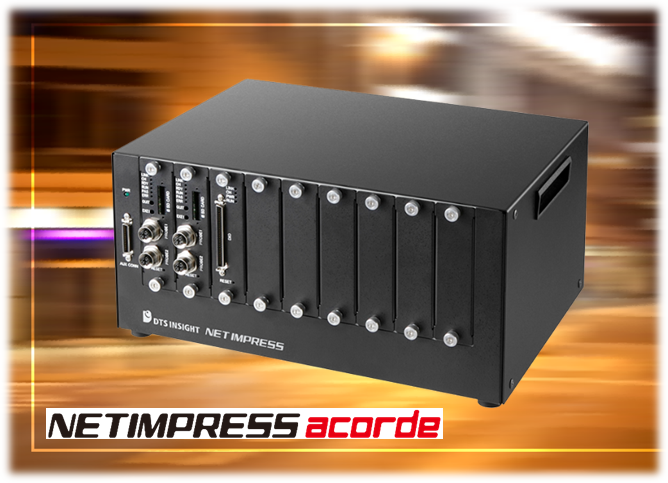 Enhanced unit Expansion:Programming Support up to 18 Microcontrollers
It is a system in which the unit configuration to be mounted flexibly can be changed according to the needs of the manufacturing site of the production line.Up to 9 units can be mounted.
The programmer unit is now fully equipped with 2 channels probe cable. Up to 18 Flash microcontrollers can be programmed.(However, 2 channels of the programmer unit is switched for each probe)Digital I/O unit can monitor and control 32 channels of digital input signals and 32 channels of digital output signals with a single unit.It is a comfortable manufacturing facility for PCBs in which several microcontroller are mounted, which are subject to high manufacturing loads.
How to Make Effective Use of the Programmer Unit (AFX210)
In a production-line programmer application, there are many cases in which two built-in flash microcontrollers are programmed, which are the main subs.Since only 1 channel of probe cable can be connected with the conventional product, in order to accommodate two microcontrollers, two programmer units were prepared, and additional circuitry of electromagnetic relays was required to prevent electric interference in order to switch the probe cable compatible with microcontroller.
The Programmer Unit (AFX210) has made it possible to connect 2 channels probe cables to a single unit in order to eliminate the previous problems in terms of efficiency and cost.An SD-card is implemented for each programmer unit (AFX210), and microcontroller's programming environmentcorresponding to individual probes can be stored independently. If AFX210, a single unit can accommodate different microcontroller models, thus expanding the use of programming at the manufacturing site.

In order to make effective use of the Programmer Unit (AFX210), we will introduce an example of the use case in which two microcontrollers are mounted on PCBs.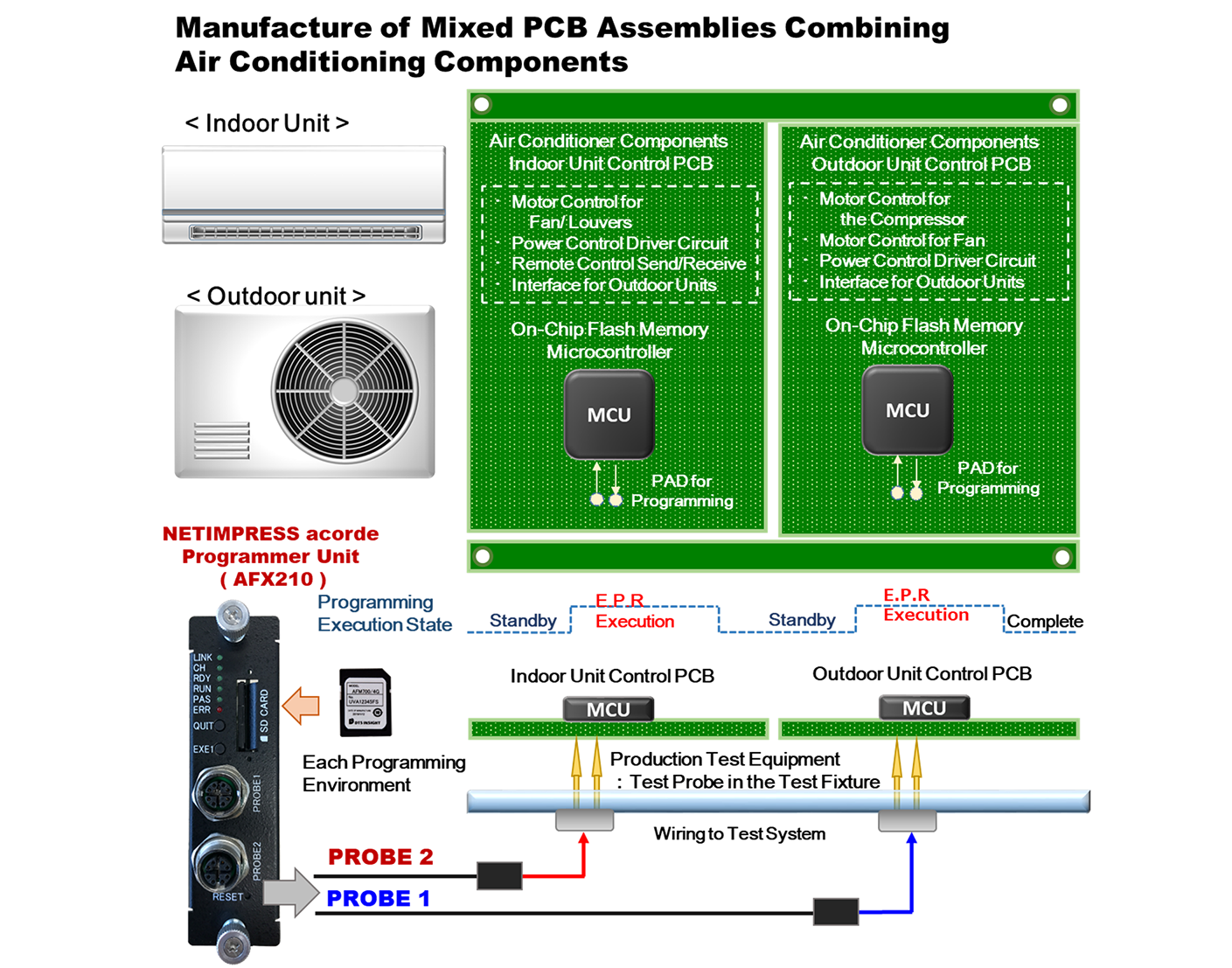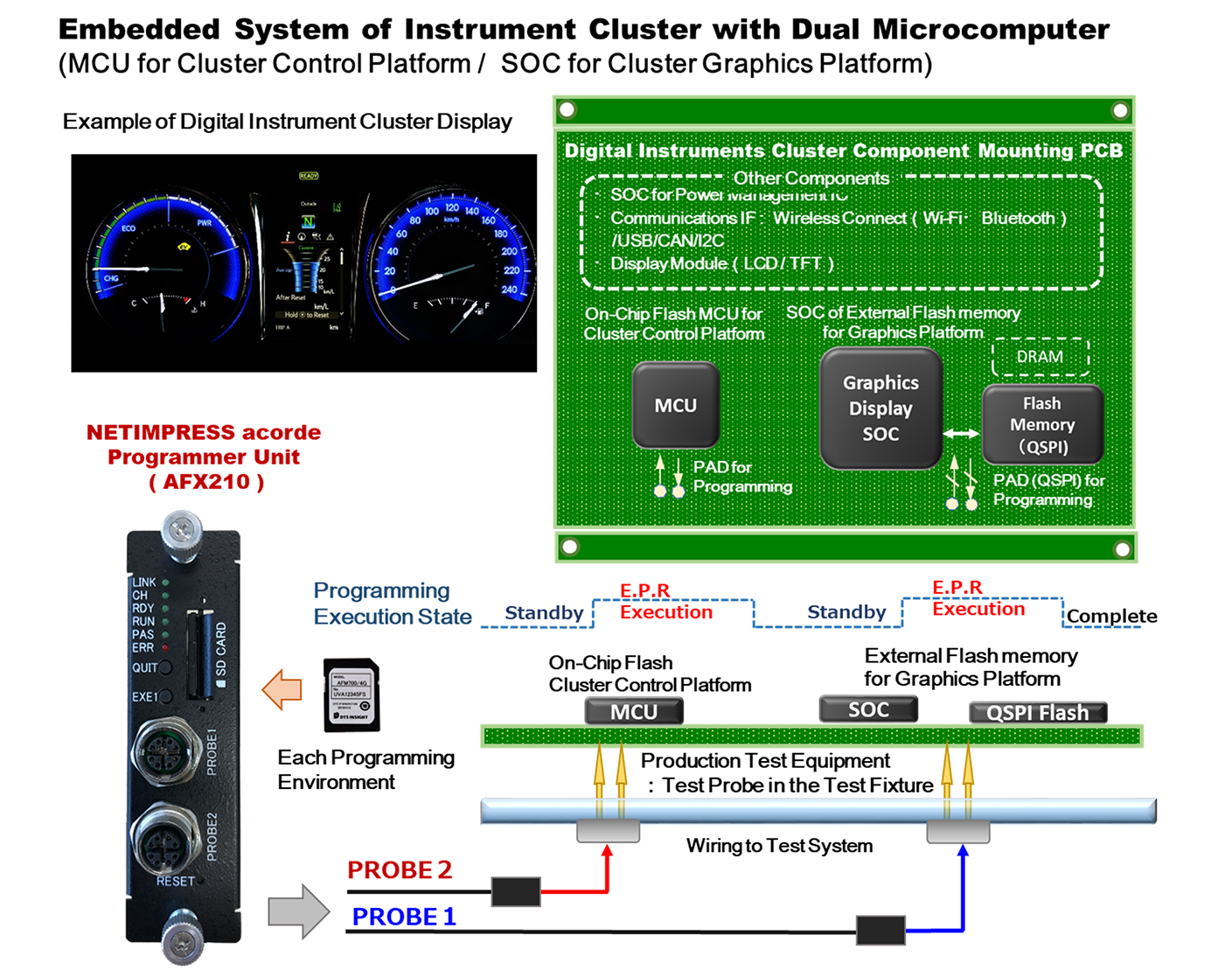 Productivity Tact Time-up with Batch Simultaneous Programming
In order to improve QCD by reducing manufacturing costs and improving productivity efficiency, multi-chamfered PCB production, in which multiple product circuits are laid on printed PCBs of a worksize that can be manufactured, is becoming common on production lines.For the programming of Flash microcontroller mounted on multi-chamfered PCBs in production lines, simultaneous programming of NETIMPRESS acorde contributes to a significant reduction in production tact time.
Below is an example of programming for multi-chamfered PCBs with 16 built-in flush microcontrollers, showing the image of NETIMPRESS acorde configuration and batch simultaneous programming.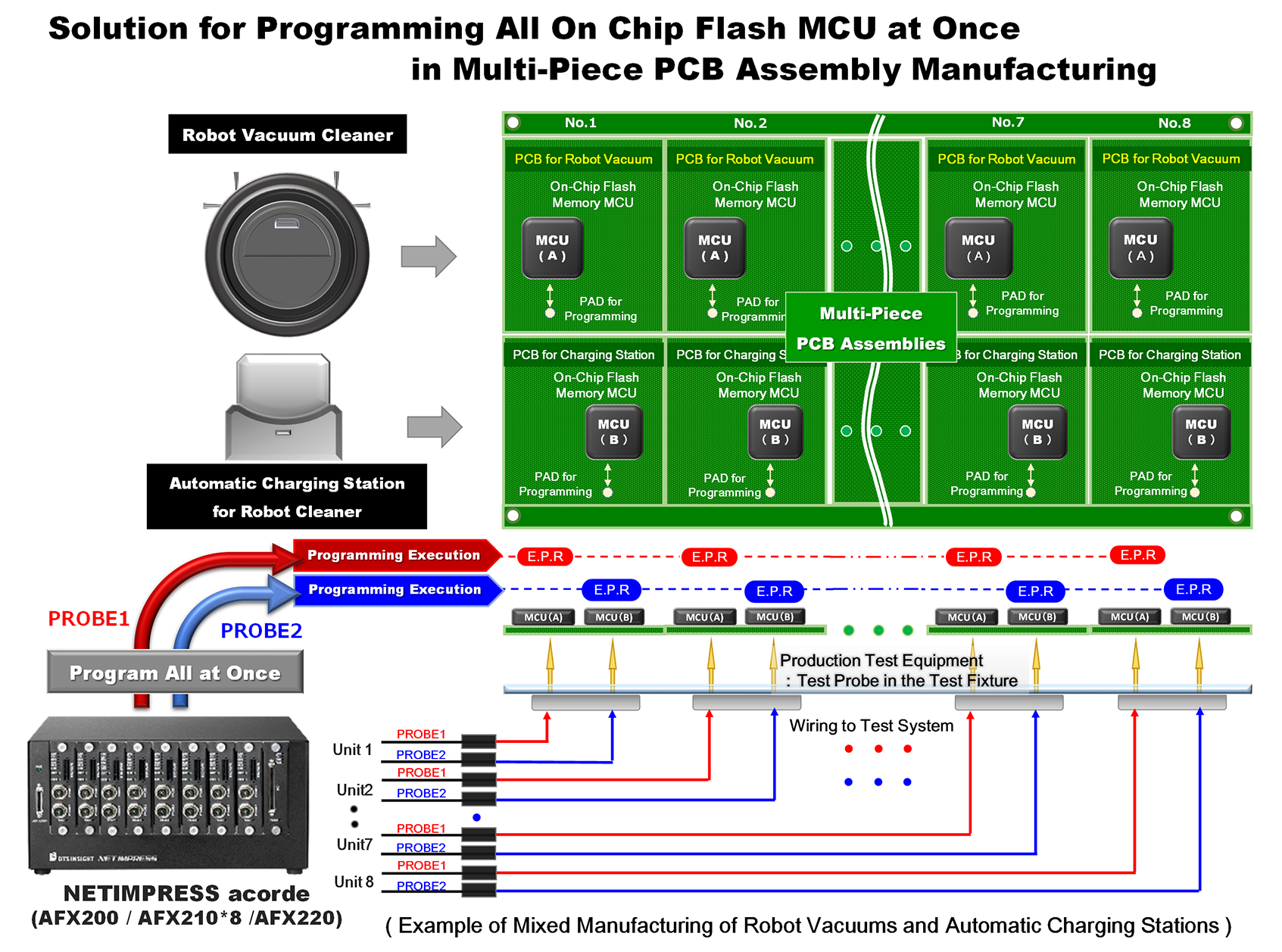 To Link a Programming Manufacturing Process with Customer Manufacturing Equipment
In NETIMPRESS series, we have accumulated a lot of experience in collaboration with equipment such as board-testing fixtures and in-circuit testers (ICTs) at our manufacturing facilities. NETIMPRESS acorde has added a new digital I / O unit (AFX220) that works with the manufacturing equipment of the production line to the lineup.Digital I/O unit (AFX220) is a unit for the input/output interface of 32 digital signal inputs and 32 digital signal outputs.This is a unit product for input monitoring and control of equipment for coordination of other equipment.

To incorporate "Flash Programming Run Control" into the manufacturing sequence of customer manufacturing facility application, customer can easily control it by using Digital I/O unit and the dedicated remote control software (SWX630/SWX640). Sample software is also available for Digital I/O control software (SWX630) to perform on-site adjustments of new manufacturing facilities and fixture jigs as well as test signal-output operation checks.After performing on-site adjustments and confirming coordinated operation, use the DLL (SWX640) of Digital I/O control package to develop the customer's manufacturing application (manufacturing execution system, equipment control, production management system) implementation.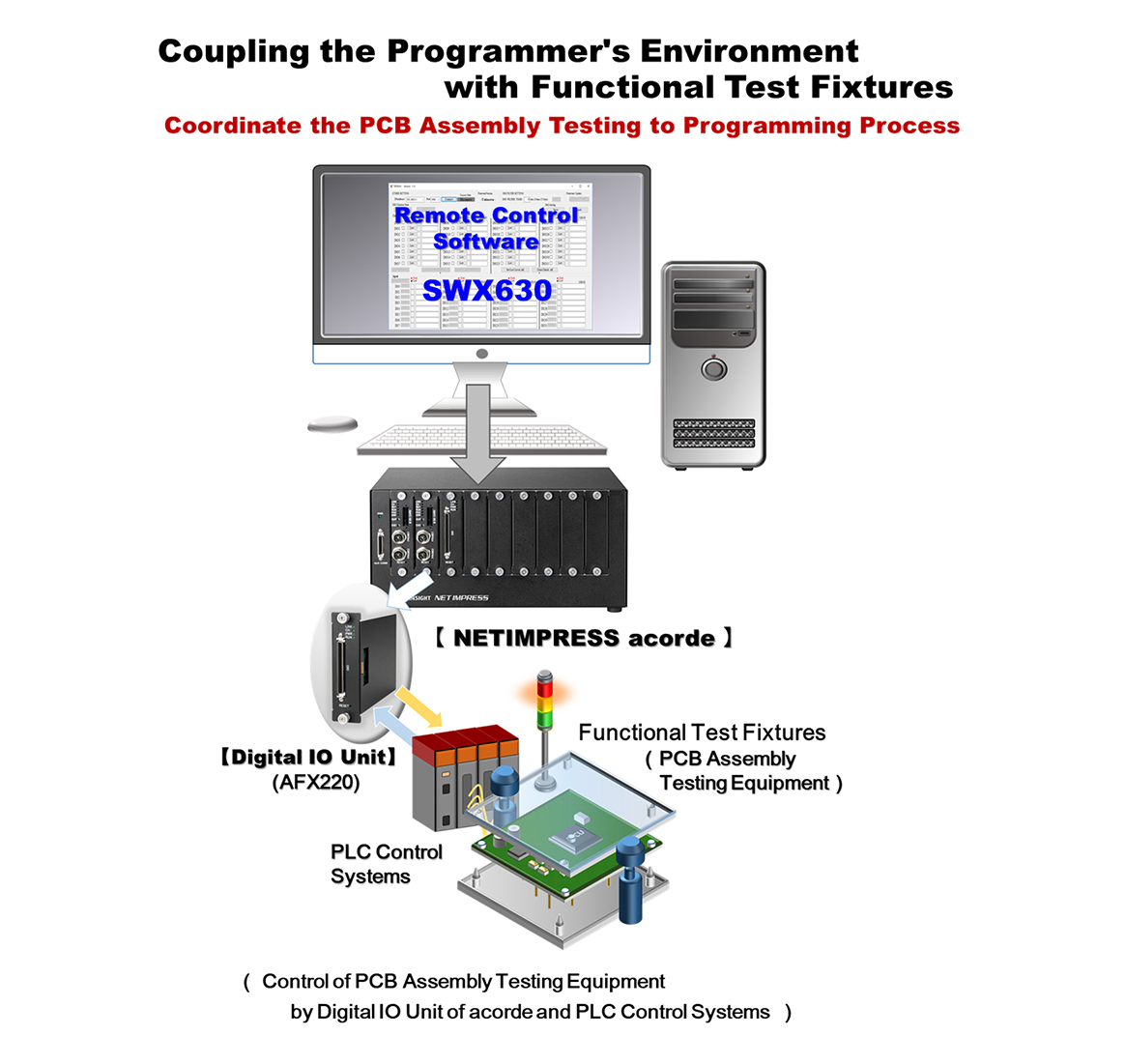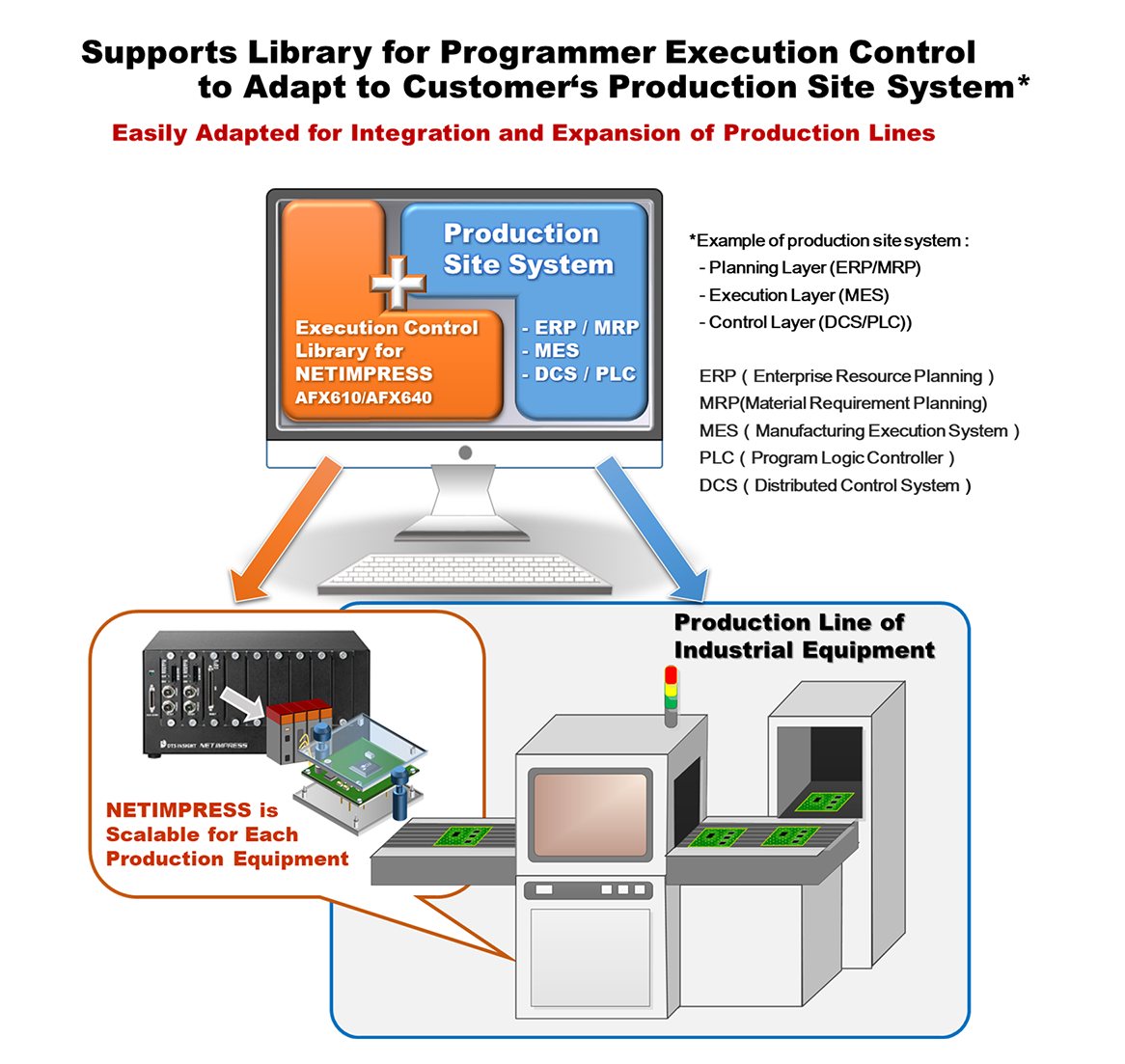 Product Specifications of NETIMPRESS acorde Series
NETIMPRESS acorde series-product specifi cations are introduced below.
●Base Unit(AFX200)
The base unit is "NETIMPRESS acorde" body equipped with a power supply, communication, a backplane for mounting the unit, and a cooling fan.
【Display LED・Operation SW and connector】
<Front panel> ・Display LED:Power LED
・Maintenance unit(AFX230)connector
・Unit mounting slot(There are slots, SLOT1 to 9.)
<Rear Panel> ・Operation SW:POWER SW
・AC power cord connector・Ethernet connector
・RESET connector(For programmer unit)
【Basic Specifications】
・HOST interface:ETHERNET
(10BASE-T/100BASE-TX/1000BASE-T)
 Built-in 9-PORT HUB
・Storage environment -5 to 50℃ ・Operating temperature 5 to 40℃
・External dimensions 340(W)×250(D)×159(H)mm
・Weight 7.6kg 
・Power Supply AC100-240V 50-60Hz (2.8A MAX)
【Accessories (Optional)】
・AC code(Cable type differs according to country)
・Reset cable (OCX290)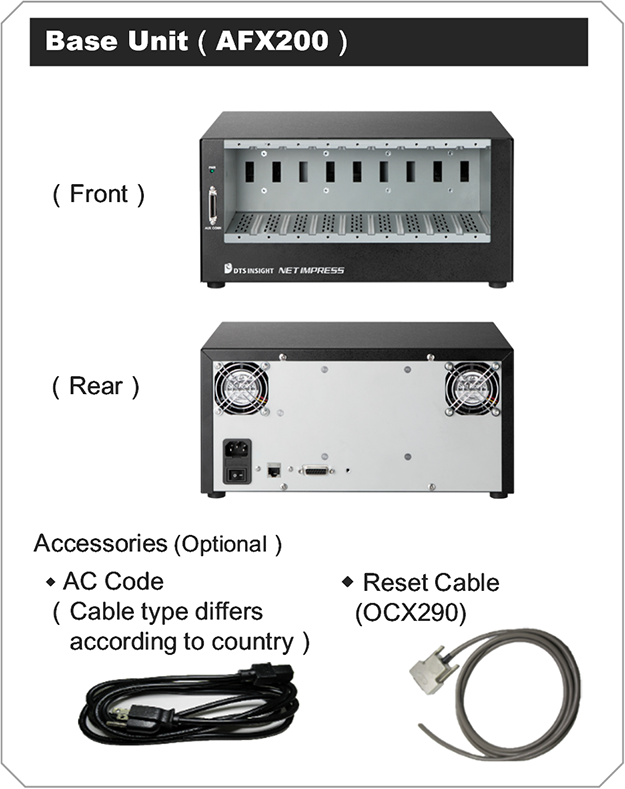 ●Programmer Unit(AFX210)
It is a unit for high-speed programming to "microcontroller with built-in flash ROM" and "flash ROM connected to the external bus of the microcontroller".The target-connection probe cable can be connected 2 channels.The SD card slot is equipped with an SD card slot in which the program environment and conditions (definition license registration) can be saved.
【Display LED・Key SW・Connector】
・Probe cable connector 2CH
 (Round connector M12 Female 8pin)
 Adaptive probe:PHX400/PHX410
・Operation Key:QUIT・EXT・RESET Key 
 (Implemented embedded key SW in the panel)
・Display LED:LINK/CH/RDY/RUN/PAS/ERR
【Basic Specifications】
・Storage environment -5 to 50℃ ・Operating temperature 5 to 40℃
・External dimensions 31(W)×165(D)×113(H)mm
・Weight 300g
【Accessories (Optional)】
・Dedicated SD card (AFM700/4G or /32G)
・Probe cable(PHX400/PHX410)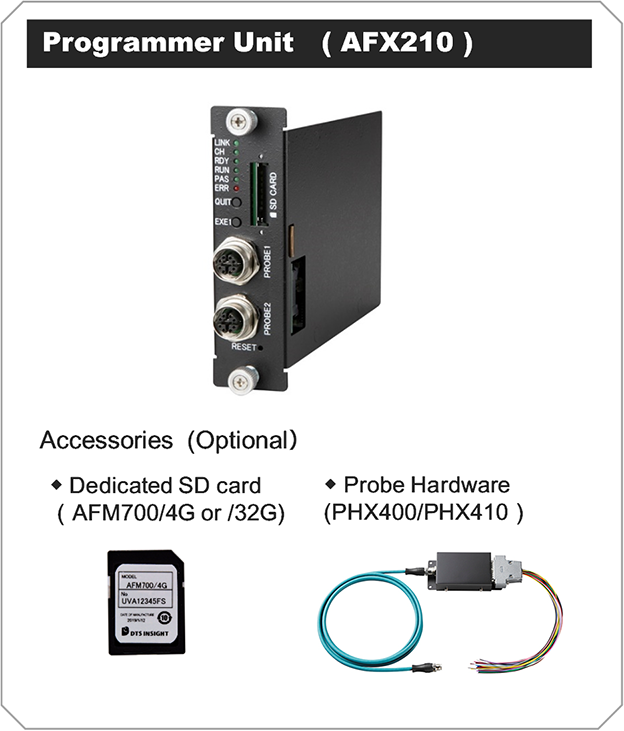 ●Digital I/O Unit(AFX220)
Digital I/O unit is used for 32-port control of digital inputs and outputs in order to cooperate with manufacturing facilities and equipment.
【Display LED・Key SW・Connector】
・DI/O cable connector 1ch
 (DX20-80S(HIROSE ELECTRIC CO., LTD.))
 Cable to be connected:OCX220
・Operation Key:RESET(Panel embedded key SW)
・Display LED:LINK/CH/PWR/RUN
【Basic Specifications】
・Storage environment -5 to 50℃ ・Operating temperature 5 to 40℃
・External dimensions 31(W)×165(D)×113(H)mm
・Weight 300g
【Accessories (Optional)】
・DI/O cable for AFX220(OCX220)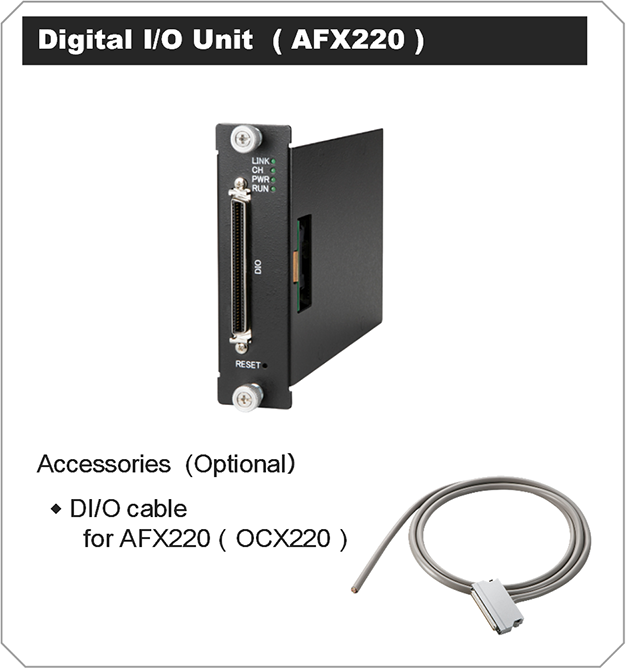 ●Maintenance Unit(AFX230)
The maintenance unit (AFX230) is used for standalone operation of the programmer unit and Digital I/O unit offline.
The unit to be operated stand-alone can be switched by the toggle switch on the bottom.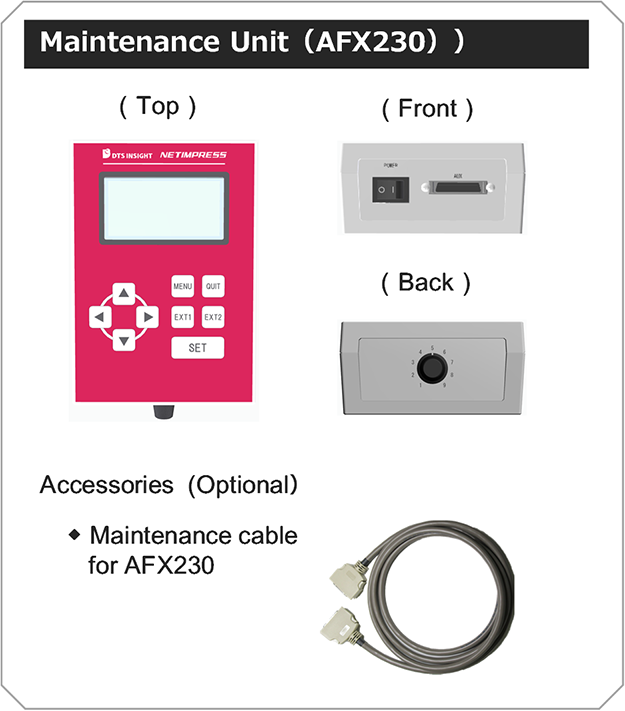 NETIMPRESS avant/acorde Common Accessory Product Specifications
●Dedicated SD card(AFM700)
Dedicated SD card for AFX100 and AFX210 products.
It supports up to 32GB of memory size (UHS-1 standard) for high-speed data access.
Programming environment data is saved in the YIM folder in the same way as conventional products.With programming, the YIM folder can be instantly switched to the next target microcontroller.
●Definition license
NETIMPRESS avant/acorde is a general-purpose flash programmer.Each company's flash programming protocol is licensed with definitions (communication firmware) and probe logic (logic firmware corresponding to the physical interface).It is possible to expand compatible devices by adding a license to the SD card.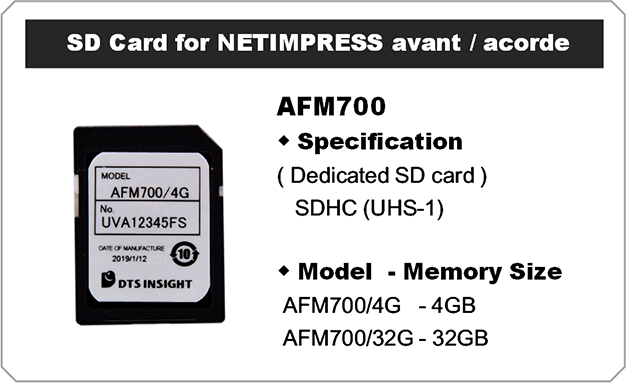 ●Probe cable(PHX400/PHX410)
PHX400 is a multi-interface probe cable for various interfaces.
By default, you can extend the supported interfaces by providing serial and SPI standard support and adding probe logic licenses.
PHX410 is a probe cable for CAN/CANFD. It can be used to rewrite some of the data used in the final process (EOL:End-of-Line) of ECUproduction lines such as automotive.
【Basic Specifications】
・Cable length:
 Programmer side 2m/Target Side 30cm
・Connector
 Programmer side Round connector 8pin
 Target Side D-SUB connector
 (PHX400:25pin・PHX410:9pin)
・External dimensions 65(W)×95(D)×25(H)mm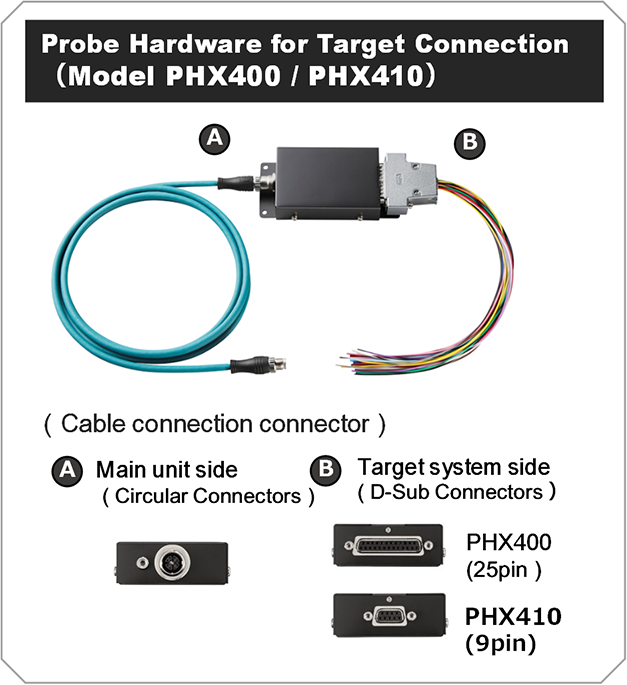 【Probe Logic License】
Probe logic (firmware corresponding to the physical interface) is licensed.
It is possible to support the probe interface by installing the license on the purchased probe.

・PLX410 : Serial probe logic license(Standard installation on PHX400)
・PLX420 : JTAG probe logic license(Paid license) For PHX400
・PLX430 : SWD probe logic license (Paid license) For PHX400
・PLX440 : QSPI probe logic license (Paid license) For PHX400
・PLX460:BDM probe logic license (Paid license) For PHX400 用
・PLX450 : CAN/CANFD probe logic license (Standard installation on PHX410)
NETIMPRESS avant/acorde Common Product Specifications
High-Speed Programming and File Download Performance
To realize high-speed programming, the target communication baud rate, PC communication baud rate, and internal processing are accelerated.
The communication baud rate with the target is max. 40Mbps, communication with the PC is connected by Gigabit Ethernet, and 8Mbyte binary files can be downloaded in 6 seconds.
Comparing Time Required for Programming
Device
Size
Programming I/F
Command
AF430
Traditional model
AFX100/AFX210
New model
Device A
4Mbyte
Serial
EPR
48 seconds
34 seconds
Device B
16Mbyte
JTAG
EPR
94 seconds
74 seconds
EPR:a series of actions of erase, program, and read-verify
Communication Speed Between PC and Programmer
Operation
File size
AF430/HSM
Traditional model
AFX100
New model
Object download(binary data)
8Mbyte
46 seconds
6 seconds
Object download(S record data)
23.5Mbyte
166 seconds
13 seconds
YIM folder download
10Mbyte
80 seconds
6 seconds