G-NETIMPRESS
NET IMPRESS Series (Flash Microcomputer Programmer)
Advantages and disadvantages of programming
What are advantages of adoption of a flash microcomputer?
It brings about various advantages such as quality improvement with extended development period, increased efficiency of inventory management for each destination, etc., however, these advantages are not available sometimes due to difference of programming methods.
We recommend onboard programing to pursue maximum efficiency and cost reduction.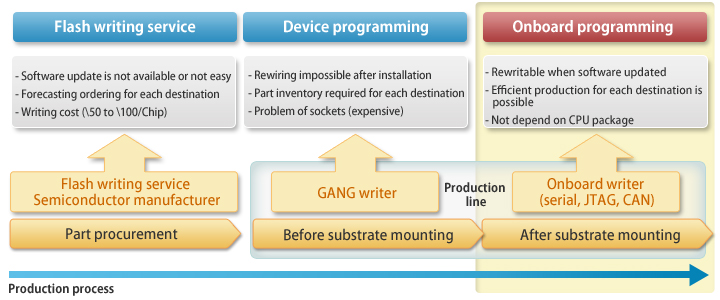 Effects that onboard programming method brings about
Reduction of cost

The cost for flash writing service reduced.
Easy to update software, not waste the time for writing service.

Reduction of excessive inventory

"Just On Time" production is possible with onboard writing in production lines.
Flexible responses are possible when a sudden change of the production plan occurred due to a specification change and troubleshooting.

Extended period of design, development, evaluation, and quality inspection

Software quality will be improved because debug process is available just before production.
Versatile in-circuit programmer for flash memory built-in microcomputer
The NET IMPRESS series is versatile in-circuit programmer which supports various kinds of flash programming protocols. It widely supports various flash microcomputer programming in all areas such as development, production, and maintenance support.

Versatile/High-Speed Flash On-Board Programmer.
It pursues convenience to introduce to lines and is equipped with functions of a Flash programmer that are more secure, faster, and easier to use. Equipped digital I/O - This single unit allows cooperation control with manufacturing equipment (jigs, etc.)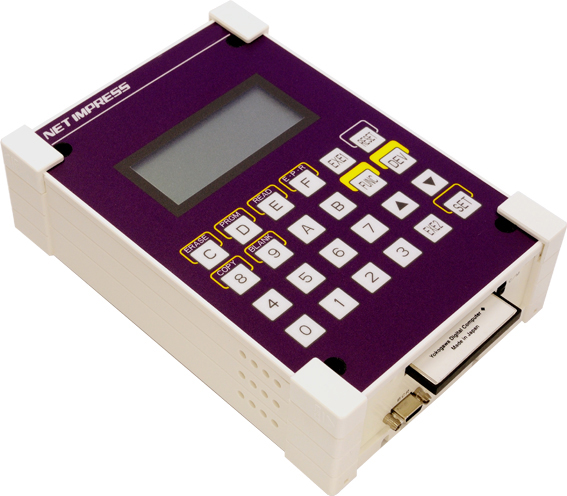 A synchronous multiple writing onboard serial programmer for production lines.
It is optimum for synchronous writing to gang printing mount boards, allowing synchronous writing to up to eight flash memories. The functions and performance are compatible with MegaNETIMPRESS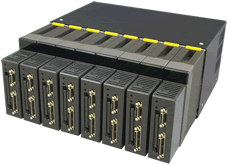 Common Functions/Specification
Standalone operation without a PC is available
Programming can be started by an external trigger
Program data(buffer RAM) editing, file creation function
One touch execution function (arbitrary command sequences can be allocated to two execution buttons)
Wide range support of flash microcomputers of various companies
Support various communication interfaces (JTAG, CAN, etc.)
DLL for PC control operation allows you to develop an original line control software.