Product Specifications
Specifications
Target interface  DX10-28S(HRS)
UART: 2400 - 2Mbps
CSI: 62.5k - 10Mbps
Voltage range: 3V±10% to 5V±5%
*CAN model  HDR-E26MAGI
CAN High Speed: 125k~1M(bps)
CAN Low Speed: 10k~125K(bps)
Ethernet interface 100BASE-TX
Digital I/O interface HDRA-EA36-LFDT-SLC+
OK/NG/BUSY output function
Script selection input 5bit
Start input & Script command line Step execution input function
H/W RESET input
RS232C connector for BCR (bar code)
With 5V power supply function
LCD display 4 digit
With 24 key membrane keyboard (with key operation lock function)
Extended interface
Equipped with an extended slot for a future high-speed
Hardware Overview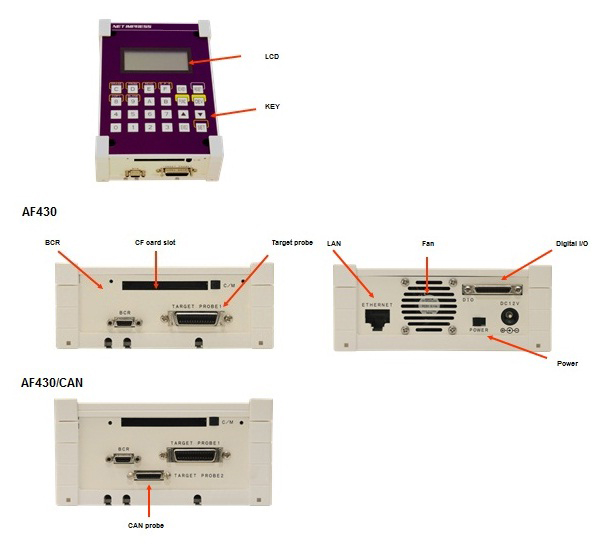 Target Probe
Stand-alone operation
Even in stand-alone use, you can switch object easily by using BCR.
You can set Digital I/O control with Script file.
Since it allows I/O control with jigs, you can use it for various types of control such as lighting of the status lamps and handle lever lock.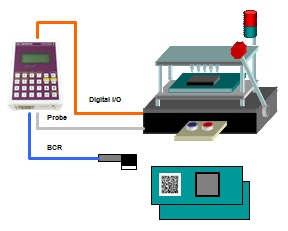 PC remote control operation
PC driver to build a flash programming automation line, we provide AZ491 (remote package).
You can develop your original line control software with AZ491.
It allows you to control from one PC up to eight programmers in parallel processing
You can use it as programming for mixed model production or ID.